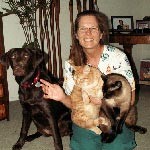 Tracy Vasquez, R.V.T. (Manager and Head Technician)
My name is Tracy and I have given my heart to helping animals for most of my life.  I am very fortunate that I get to spend my days helping these trusting creatures.  Over the years, I have had the pleasure of rescuing many cats and working with doctors, technicians and other staff at Sunnycrest. I feel I can truly make a difference.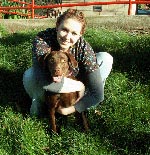 Shannon
Hi, my name is Shannon and my puppy is "Pistol". I have worked at Sunnycrest Animal Care Center since 2005. I like working at Sunnycrest because of the animals we save and the clients we comfort. I love to hold the new puppies and kittens and show them around the office, puppy breath is the best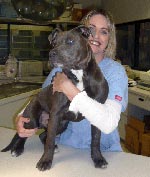 Erin
My name is Erin. Just thought I would give you a quick run down on who I am & why my picture is here on the internet. I work for Sunnycrest Animal Care Center & love it. Of course, I love animals. I love to visit & play with all the animals here in our boarding facility. I know they miss their family when they are staying with us so I feel it is of great importance to pay extra attention to all of them. I also love that we have grooming. It is always fun to see the expression on the owners' face when they see the beautiful job our groomers have done. Most of all I love it when we get the chance to assure the owners that everything is going to be ok, "Their pets are in good hands".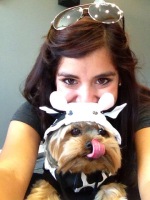 Felice
Hi my name is Felice Silva. I recently graduated from UC Davis with my Bachelor's Degree in Animal Science. My desire to work with animals started when I participated in the FFA program at Sonora high school and grew stronger throughout my education at Davis. I loved having the opportunity to work with goats, sheep and horses, but my heart always led me back to working with small animals. Dogs and cats are my favorite. I have Yorkshire terriers at home like Ladybug featured in the picture. I hope to meet you and your animal soon at Sunnycrest!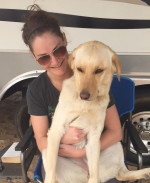 Stephanie
Hello! I'm Stephanie and I started working at Sunnycrest in September of 2015. Let me just say, working here is a dream come true! I've always been the one to take in a stray or sick animal and have so much compassion for animals of all species. I've always known I wanted to work with animals and help people at the same time which is exactly what I get to do every day here at Sunnycrest. I know you and your pets will feel at home here and I hope to see you soon!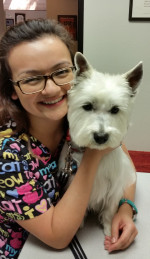 Maya
My name is Maya Pinto, I completed my Veterinary Technology degree at Carrington College. I then became a Registered Veterinary Technician in February of 2015. I have been working with animals since I was 16 years old, I started out volunteering at the Downey Animal Shelter. I have worked and volunteered at various animal hospitals over the past years. Each hospital teaching me new things. I have also volunteered at the Aquarium of the Pacific in Long Beach, working with the reptiles and lorikeets. I hope to some day work with large exotic animals but I still equally enjoy working with small animals. Hope to see you soon!