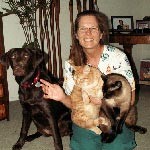 Tracy Vasquez, R.V.T.
Manager and Head Technician
My name is Tracy and I have given my heart to helping animals for most of my life.  I am very fortunate that I get to spend my days helping these trusting creatures.  Over the years, I have had the pleasure of rescuing many cats and working with doctors, technicians and other staff at Sunnycrest. I feel I can truly make a difference.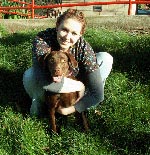 Shannon
Boarding Manager/Senior Veterinary Assistant
Hi, my name is Shannon and my puppy is "Pistol". I have worked at Sunnycrest Animal Care Center since 2005. I like working at Sunnycrest because of the animals we save and the clients we comfort. I love to hold the new puppies and kittens and show them around the office, puppy breath is the best 🙂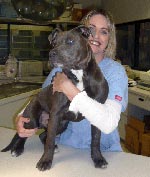 Erin
Senior Veterinary Assistant
My name is Erin. Just thought I would give you a quick run down on who I am & why my picture is here on the internet. I work for Sunnycrest Animal Care Center & love it. Of course, I love animals. I love to visit & play with all the animals here in our boarding facility. I know they miss their family when they are staying with us so I feel it is of great importance to pay extra attention to all of them. I also love that we have grooming. It is always fun to see the expression on the owners' face when they see the beautiful job our groomers have done. Most of all I love it when we get the chance to assure the owners that everything is going to be ok, "Their pets are in good hands".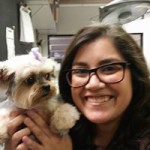 Felice
Senior Veterinary Assistant
Hi my name is Felice. I graduated from UC Davis in 2014 with my Bachelors Degree in Animal Science. After Davis, I pursued my dream of getting a Registered Veterinary Technicians license by continuing  my education at OCVAS and graduating the program. My desire to work with animals started when I participated in the FFA program at Sonora High School and grew stronger through my education at Davis. My heart has always led me to work with small animals. I have a my own herd of Yorkshire terriers at home and a cat named Nala, who basically is a dog since she plays fetch. I hope to meet you and your animals soon.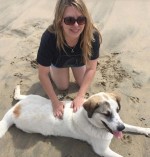 Susan
Senior Veterinary Assistant
Hi, my name is Susan.  Before I became a technician at Sunnycrest, I was a client for over 20 years and I'd never take my pets anywhere else.  I earned my bachelor's degree and teaching credential from Cal State Fullerton then taught elementary school and worked with children in the non-profit sector up until a couple of years ago, when I decided to make my lifelong dream of working with animals a reality.  At home, I have a ridiculous 100 pound Anatolian Shepard Dog named Barnabus who loves to sit on my lap and a naughty orange tabby cat named Mr. Beans who enjoys attacking my feet.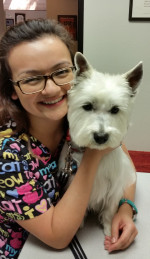 Maya Pinto, R.V.T.
Registered Veterinary Technician
My name is Maya Pinto, I completed my Veterinary Technology degree at Carrington College. I then became a Registered Veterinary Technician in February of 2015. I have been working with animals since I was 16 years old, I started out volunteering at the Downey Animal Shelter. I have worked and volunteered at various animal hospitals over the past years. Each hospital teaching me new things. I have also volunteered at the Aquarium of the Pacific in Long Beach, working with the reptiles and lorikeets. I hope to some day work with large exotic animals but I still equally enjoy working with small animals. Hope to see you soon!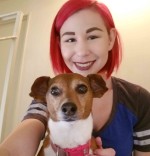 Alli
Veterinary Assistant
Hi, I'm Alli! I absolutely love being a vet assistant at Sunnycrest. I grew up always having a dog in the house. My current baby is my Jack Russell/Dachshund mix, Jeep. She's the love of my life! I spent my high school years working with animals in the La Habra FFA, eventually becoming president of the chapter during my senior year. After 5 years as a pastry chef, I decided it was time to return to my love of working with animals and came here to Sunnycrest. I'm currently a student at Mt. San Antonio College as an animal science major. My ultimate goal, besides becoming a vet, is to one day have a foster home for senior and disabled dogs.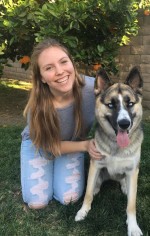 Kristen
Veterinary Assistant
My name is Kristen! I have been working here since January 2016.  I am privileged to be able to work at a hospital that loves and cares for animals as much as Sunnycrest does.  Ever since I was little I have been in love with animals and Sunnycrest has shown me that I can fall even more in love with them.  I love being able to meet clients and their animals because everyone has much amazing stories and amazing animals with awesome personalities.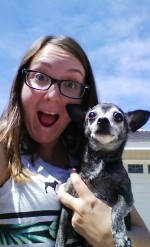 Brooke
Boarding Manager/Veterinary Assistant
Hi, my name is Brooke.  I earned my Bachelor's degree in Animal Science from Cal Poly Pomona in 2016.  I started working here at Sunnycrest after graduation and I love it!  Ever since I was little I wanted to be a veterinarian and I'm slowly working to accomplish that goal.  I used to volunteer with Found Animals at SEACCA in Downey and I loved every minute of it.  I love seeing how excited the animals are to come here and I especially enjoy giving them lots of love and attention.  I have a crazy little pug named Snotz at home along with two other dogs and two cats.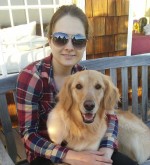 Liz
Boarding Manager/Veterinary Assistant
My name is Liz and working here at Sunnycrest has been a stepping stone in pursuing my lifelong passion in caring for animals. Growing up in a multi-pet household and caring for my own pets inspired me. After taking F.F.A in high school and volunteering at a horse ranch, caring for other animals has made me want to open other doors to further my knowledge of pet care.  The Sunnycrest team has become a huge inspiration in my life and the compassion that everyone puts into their job keeps me motivated every day.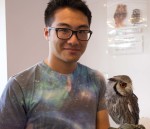 Kevin
Senior Veterinary Assistant
Hi, my name is Kevin.  I graduated from UC San Diego in 2016 with my Bachelor's degree in Bio-engineering.  I've always loved animals and started off working with animals at the San Diego Animal Shelter.  My dream of becoming a Veterinarian and helping animals has led me to wonderful Sunnycrest in 2017.  The care and compassion for animals by everyone working here has definitely inspired me to work even harder for the Animals.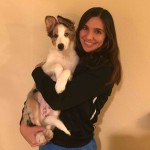 Caroline
Senior Veterinary Assistant
Hello my name is Caroline.  Currently, I am a student at Cal State Fullerton getting my bachelors degree in Health Science.  I started working here at Sunnycrest Animal Care Center in 2015.  Before working here I was lost as to what I wanted to do with my future.  From the moment I walked in to Sunnycrest I knew with all my heart that I wanted to continue my life working with Animals.  I have found my passion working here and I love what I do.  As far as my pets go, I have two cats Tiger and Noches and one border collie named Riley.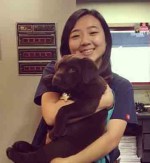 Jasmine
Boarding Manager/Senior Veterinary Assistant
Hi, my name is Jasmine! I graduated from UC Davis in 2015 with a degree in Biological Sciences.  I started working at Sunnycrest in December 2015!  Working here has given me the amazing opportunity of working with veterinarians and staff that truly care for every pet that walks through the front doors.  For me, it all started when I volunteered at my small local animal clinic, and since then, I have loved working with animals.  I have two little Yorkshire terriers of my own named Belle and Tahng.  I hope to meet you and your pet soon!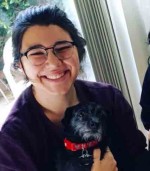 Kimberely
Veterinary Assistant
My name is Kimberley Johnson and I am currently 18 years old and going to college. I may be young but I have always had a passion for working with animals from a young age and knew that I wanted my life to involve them in some way, shape, or form. I want to be able repay them for all the wonderful moments they brought into my life. Now being able to work at Sunnycrest Animal Care Center has given me more opportunities that I could ever imagine and I am privileged to help these amazing creatures on a daily basis.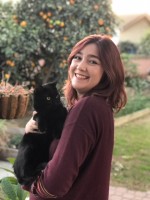 Ariana
Senior Veterinary Assistant
Hi! My name is Ariana and I love working at Sunnycrest and getting to know the patients and their families. I have one dog and three cats, one of which I rescued from here at work.  I'm finishing up my degree in Biology at Cal State Fullerton and I hope one day to be a veterinarian.  Working here has confirmed that I enjoy working with animals.