Veterinary Care
We provide the routine general practice veterinary services your pet may need including:
diagnosis and care for illnesses
vaccinations
surgery
radiographs (X-rays)
acupuncture
ultrasound
We utilize state of the art tools including:
laser surgery
pulse oximetry
ultrasound
electrocardiograms
blood pressure measurement
digital X-Rays
ultrasonic tooth cleaning
Prophy-Jet polishing
laboratory diagnostics including vaccine titer testing.
We practice in an area with leading veterinary specialists as well as access to other specialists utilizing telemedicine. Clients appreciate our referrals to Board Certified Specialists for eye surgery and diagnostics, cancer treatment, specialized bone, neurological and soft tissue surgery, endoscopy, stem cell transplants, C.T. Scans, Magnetic Resonance Imaging, Nuclear Medicine, Pacemaker Surgery, Dialysis, 24-hour intensive care, neurological disorders, behavior problems and for after hours emergency care.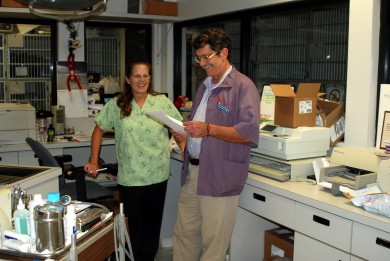 For more detail about our services please select from the menu on the right.